Suitcases. Our loyal companions during long trips and air travel. We carefully store in them things that may be needed far away from home. Then we wrap the suitcases with a film so that the loaders do not get dirty and damage them (well, or to protect their goods from theft – they like it as much as they like). In some cases, even wheels are built in to facilitate their ground transportation. He pulled out the sliding handle – and forward. But what if these wheels turned a suitcase into a compact vehicle? It turns out that engineers from the company Modobag have been working on the creation of "racing suitcases" for about a year already.
With an elegant hand movement, Modobag's suitcase turns into a small scooter, sitting on which you can develop speed up to 12.8 kilometers per hour (almost three times faster than the usual step). Maneuvers are carried out thanks to the built-in steering system, and it is convenient to sit astride the suitcase with special retractable supports for your legs. The maximum weight of the "driver" should not exceed 118 kilograms. The built-in battery is enough to cover a distance of about 10 kilometers, which is enough to travel several airports. Dimensions of the suitcase are such that it does not have to be checked into the luggage. It easily goes for hand luggage, while it will contain enough of your things.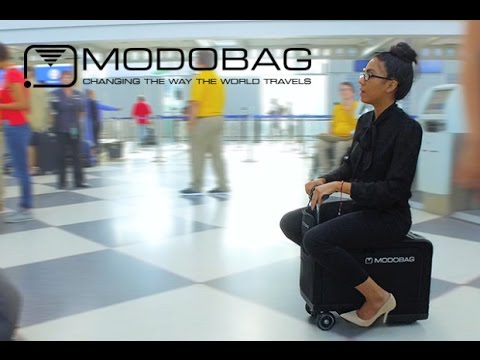 The suitcase is equipped with two backlit USB ports through which it can be recharged, or you can charge your gadgets using these same ports using Modobag as Power Bank. The case of the suitcase is made of aluminum, so it is strong, but not very heavy. Outside, the Modobag is covered with a durable ballistic nylon. Last year, the creation of a suitcase was successfully financed by the Indiegogo crowdsporting portal. Developers managed to collect six times more money than was required. And this despite the fact that the suitcase during the croweding-promotion campaign was offered to buyers for $ 1,295. Modobag should be on sale in August this year at a price of $ 1495.